Did you hear the news? The guys from Paddy's Pub are making a new comedy sitcom. Yeah, the good news came after Fox Studios ordered a pilot of the show from the comedic geniuses over at It's Always Sunny in Philadelphia. If the studio gives the green light to move forward, Charlie Day, Rob McElhenney, and Glenn Howerton will executive produce the series. How freakin' awesome is that?
The team behind 'It's Always Sunny' is making a retirement-home sitcom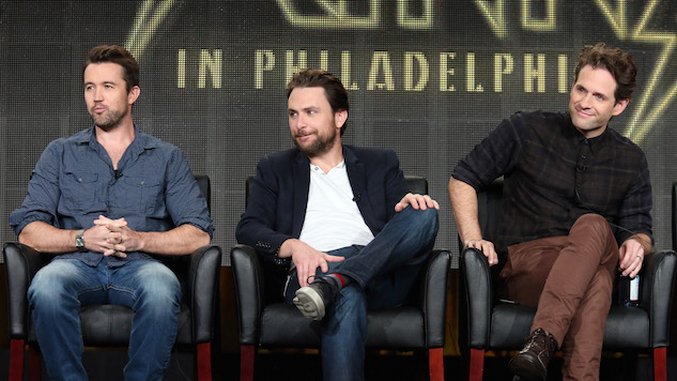 The title of the pilot is Cool Kids and it's a multi-camera comedy series about three friends in a retirement community. The three are regarded as the "cool kids" around the community but then a female rebel enters the fray and all hell breaks loose. The potential comedy sounds like an absolute riot and with Charlie Day and Rob McElhenney involved it's sure to be a massive hit. Also, joining the team is an all-star group of talent with years of producing hit shows. First off, "It's Always Sunny" and "The Mick" executive producer Nick Frenkel will help executive produce. Kevin Abbott the famed producer and writer of shows like "Last Man Standing," "Reba," and "Roseanne," will serve as showrunner for the comedy. Finally, co-creators Charlie Day and Paul Fruchbom will write the pilot.  20th Century Fox Television and FX Productions are the studios involved so far.
Now if you think that McElhenney and Day might not be able to pull off creating a hit show, think again. McElhenney actually started "It's Always Sunny in Philadelphia" as a short-film project. He convinced Day and Howerton to co-star and the show began as a low-budget series. FX picked it up in 2005 and added some new blood. Kaitlin Olson and Danny DeVito joined the cast in the 2nd season and as they say in the industry, the rest is history. Fast forward to the present day "It's Always Sunny in Philadelphia" is a mega-hit with a massive cult following. FX has already renewed the show through its fourteenth season.
David Alan Grier to star in Cool Kids pilot from the It's Always Sunny gang
Recently, Deadline Hollywood broke the news that the main characters for the new pilot have been announced. Legendary funnyman David Alan Grier was on the list along with Martin Mull, and Leslie Jordan. These three will play the three "cool kids" at the community home. Meanwhile, Vicki Lawrence will play the female rebel who causes trouble for the three old-timers. From the deadline's announcement, it would appear that Grier is going to be the ringleader of the group, while Jordan will be the "cautious hypochondriac with a weird streak," and Mull is set to be the "boring guy" in the crew.
The comedy sounds awesome and with this amazing cast, the show is sure to be a hit.